Connecting young people with nature
We believe that every child should experience a National Park first hand.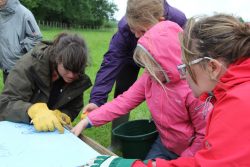 We know that contact with nature improves children's ability to concentrate and their self-discipline. And yet children in the UK have less contact with nature now than at any time in the past.
Research shows that playing in a natural environment improves young people's social, mental and physical development. We believe that learning in the spectacular landscapes of a National Park can add even more inspiration to an educational experience.
Through our iconic landscapes, wildlife and heritage we are working with National Parks across the country and local learning partners to provide inspirational learning experiences that help young people gain the knowledge they need to prepare for adulthood.
The South Downs National Park is on the doorstep for more than half a million children and young people. Together we can inspire a lifelong commitment to enjoying, understanding and caring for the natural environment and support urban and under-represented groups to benefit from all that the National Parks have to offer.
What we do
Our South Downs is our approach to engaging schools in hands-on, real life, local learning in the South Downs National Park. There are over 846 schools within 5km of the National Park boundary so an innovative approach to engaging with this audience is essential.
This is achieved through:
• establishing a recognised outdoor learning 'brand' for the SDNP;
• cascading information, knowledge and resources;
• creating networks of providers and focusing on partnership delivery; and
• promoting the South Downs National Park Learning Zone, an online outdoor learning hub.
The Our South Downs (OSD) model adopted by the SDNPA in its Learning work is based on a partnership approach where information, training and resources are shared, cascaded and disseminated widely.
Key initiatives and project work
Measuring Success: Facts & Figures
(October 2016)
• 73,900 children engaged through this work
• 59% of schools inside the National Park boundary are now actively engaged with the SDNP. Within 5km of the boundary: 40% and within 10km:16%.
• Engaged with 88 schools from the wider area including London and international schools.
• 1,667 teachers engaged
• 40% of schools within 5km of the SDNP are actively engaged
• 2,500 students participated in the Our South Downs School art exhibition
• 7 schools across the Meon Valley are engaged in a project about their local Saxon history
• Over 140 delegates at the annual teachers conference
• Nearly 1,000 teachers and 250 learning providers are signed up to the termly newsletters
• Over 45 outdoor learning providers attend annual network meetings
• Travel Grant enabled 8,358 students from 123 groups from our more deprived communities to visit outdoor learning providers in the National Park
• Over 100 live sites on the interactive outdoor learning map
Download this page as a pdf: Connecting young people with nature in the South Downs