What is the Dark Skies Welcome scheme?
The South Downs National Park Authority is keen to support opportunities that benefit the local economy and invite you to join our Dark Skies Welcome scheme.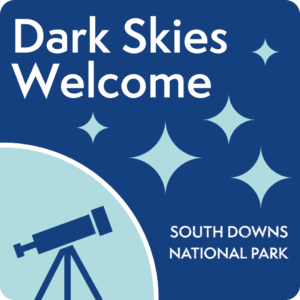 The star-studded skies overhead are as valuable as the beautiful rolling landscapes of the South Downs and in 2016 the South Downs National Park became the world's 13th International Dark Sky Reserve (IDSR).
Our Dark Skies Welcome scheme will enable you to attract new visitors who are interested in stargazing, astrophotography, nightscape walks, nocturnal wildlife and Dark Skies events, and to extend the tourism season during the winter and spring seasons when the dark nights are longer.
What's in it for me?
Will you offer a warm welcome to Dark Skies visitors?  This is how the scheme can benefit you:
You can directly target and attract visitors interested in our Dark Skies.
A free listing in the Dark Skies Welcome online directory on the South Downs National Park website, which includes a short business profile.
Free use of the Dark Skies Welcome branded icons and artwork which you can use on your own website and promotional materials.
What do I have to do?
Dark Skies Welcome is open to all types of business across the South Downs.  Joining the scheme is FREE but in return you agree to:
Commit to becoming a Dark Skies Friendly business.
Signpost visitors to Dark Night Skies or offer information including a Dark Skies map and best practice on how to enjoy the nightscape, such as bring layers, torch, gloves, flask for hot drinks (if items are not available to borrow).
Offer additional services where relevant such as flexible check in/check out, flexible breakfast or evening meal times.
Include your Dark Skies Welcome on your own website and promotional materials.
And that's it!  Our Dark Skies are for all to enjoy and your support in keeping the night sky a wonder is appreciated.  Click on Join Dark Skies Welcome and complete the application form to join the scheme.