Heathland Events: Walks & Talks and activities
Our heathland events programme is put together by all 11 of the Heathlands Reunited partnership organisations, across the whole project area which spans from Bordon in Hampshire  to Pulborough in West Sussex. These events are is made possible thanks to a generous National Lottery Heritage Fund Grant. 
Upcoming events in 2021
Secrets of the Heath: Wonders of Wiggonholt
Saturday 21 August 2021, 11am-4pm
Wiggonholt Heath, RSPB Pulborough
Free Event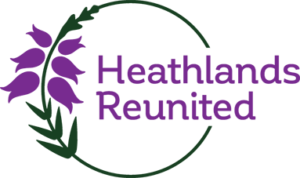 Join Heathlands Reunited and RSPB Pulborough Brooks for an exciting day exploring the heathland at Wiggonholt.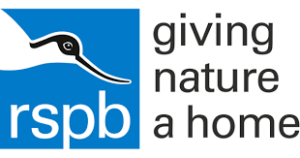 Follow the heathland superheroes trail, go on a bug hunt, discover heathland history, listen to a tale or two, create your own heathland critter, meet a reptile, and have a Stone Age experience – there's a lot to explore!  If you're still awake in the evening, there's even a bat safari!  Even dogs are included at our Take the Lead Dog School.
For details of all the events and activities, see below.
Please note that some activities have a limit on numbers and are bookable through Eventbrite, see details below.  If there are spaces still available on the day, we will offer them on a first come, first served basis.
Drop-in activities throughout the day from 11.00-16.00: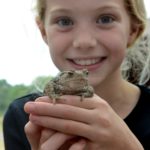 Heathland superheroes trail
Heathland trail
Create your own clay heathland super species
Meet the reptiles
Step back in time to the Stone Age
Sessions requiring pre-booking:
The following activities require pre-booking. To pre book one of the following please click the link: https://www.eventbrite.co.uk/o/heathlands-reunited-18059190585
Family 'heathland superheroes' bug hunting: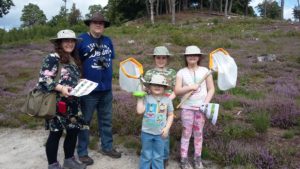 11.00, 12.00, 14.00 and 15.00
Come and meet some of the incredible invertebrates on our heathland and discover more about their fascinating
superpowers. Your family will be allocated their own set of bug hunting equipment and our RSPB activity leader will help you to use the kit to hunt for minibeasts and tell you more about them.
Heathland Tales with Storyteller Bluebird: 12.00 and 14.00
Come and listen to Storyteller Bluebird as she brings tales of the heathlands to life!
Heathland Bat Safari: 20.00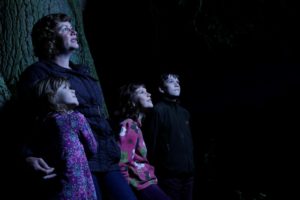 Join us at sunset for a night-time walk on the heath to meet some of our nocturnal creatures. We'll use special bat detectors to help us listen to the bat's echolocation calls and try to identify the different species of bats who hunt on the wooded heath.
Take the Lead Dog School: morning sessions
Dog behaviourist Mark Bridger-Pescott From Bone Canis is here to help. We are running 5 mini workshops covering the training required to have a safe, fun and responsible walk at Pulborough Brooks. Topics will include socialising, recall when there are distractions, breed-specific games to play and safety around livestock. Sessions last 45 minutes;
09.00
09.45
10.45
11.30
12.15
contact us for more information on times and to discuss your dog's suitability. One dog per handler. To book, email heathlands@southdowns.gov.uk or call 01730 819320.

Children's Serpent Trail Scavenger Hunt
To enter our children's heathland photo competition and for full details on how to enter, please read or Competition Terms and Conditions.