Explore the Serpent Trail
Explore the heathlands of the South Downs by following the 65 mile long Serpent Trail.
Heathlands are now rarer than rainforest and one of our most threatened habitats, covering only 1% (1,595 hectares) of the South Downs National Park.
The  65 mile / 106 km Serpent Trail is a walking route designed to highlight the outstanding landscape, wildlife and history of the greensand hills. Passing through purple heather, green woods and golden valleys, simply follow the Serpent Trail way marker discs to explore some of the most breathtaking countryside in the South East.
On the Trail you will see the beautiful and internationally rare lowland heath habitat, 80% of which has been lost since the early 1800s, often through neglect and tree planting on previously open areas. It is based upon the sandy rocks and soils from which its name derives and has characteristic habitats of heathland, woodland, acid grassland and acid bogs.
Get Your Guide – Full version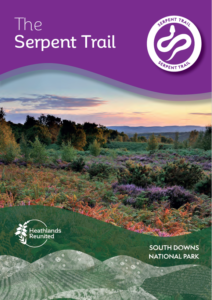 A new updated version of the Serpent Trail guide is now available.
Download your copy of the complete Serpent Trail here.
The guide has also been split into handy sections
Visitors Guide
Stages 1-11
Visitor's Guide
Before you visit,  download and read a Visitor's Guide to the Serpent Trail
Includes:
Top tips for enjoying your visit
Information about the history of the heathland
Details about five of the seven sculptures from the South Downs Heathlands Sculpture Trail to be found along the Trail
How this precious habitat is being conserved
A guide to the birds, reptiles, insects and plants that you might spot during your walk
Stages 1-11
The Serpent Trail is divided into 11 manageable sections. Try one stage and then maybe set yourself a challenge to do all of them.   Each downloadable file has handy Public Transport tips so that you can travel as sustainably as possible.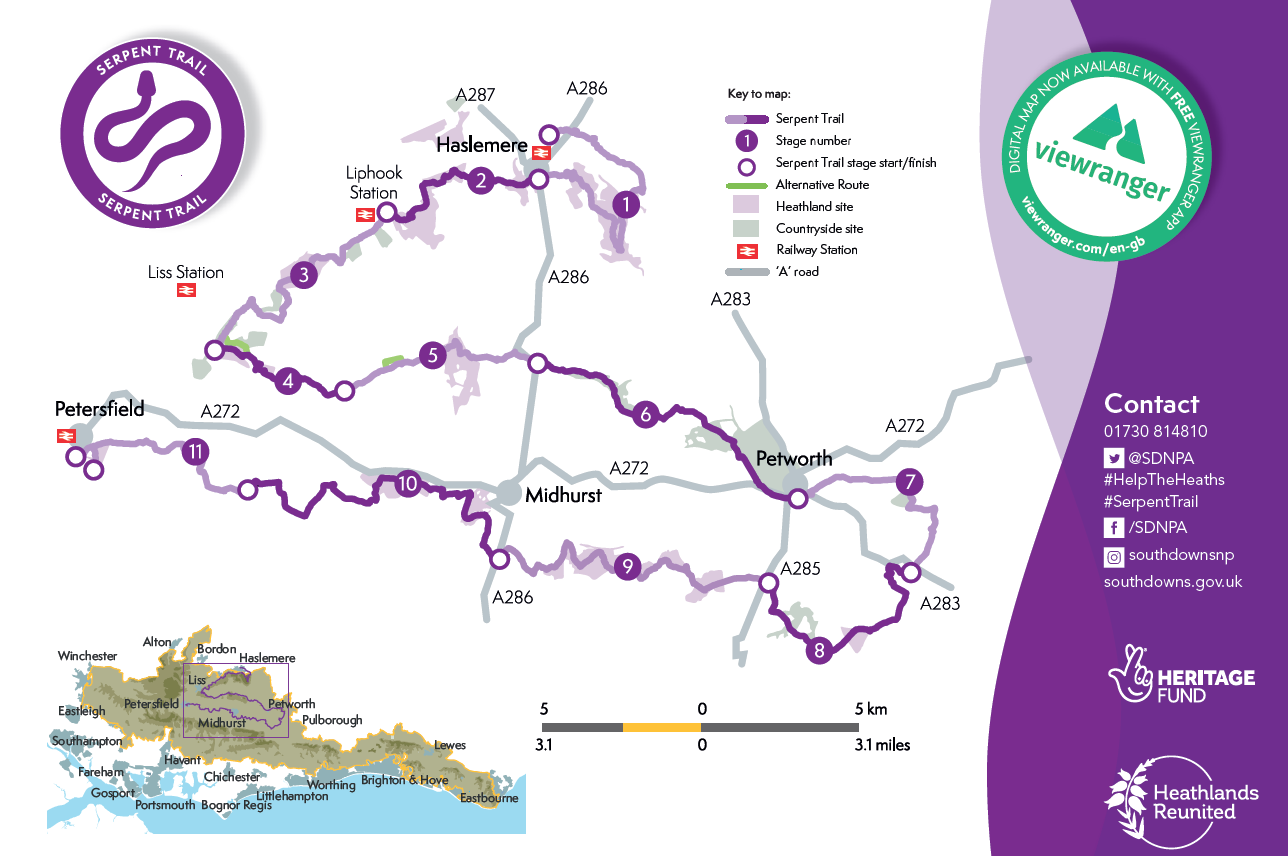 New Waymarkers
The waymarkers on the Serpent Trail have also been updated
Tail Route
The purple waymarkers follow the Serpent Trail from Haslemere to the tail in Petersfield. This is the route described in the Serpent Trail guide.
Head Route
The green waymarkers follow the Serpent Trail from Petersfield to the head in Haslemere. This is the opposite to the route decribed in the Serpent Trail Guide but the points of interest and public transport information for each stage will still be relevant.