Battle of Lewes Walking Trail
On 14th May 1264, two armies clashed on the hills above Lewes town. At stake was King Henry III's right to rule without taking advice from his subjects.
The rebel army, led by Simon de Montfort, fought and won the battle against the King's army, and de Montfort effectively took control of the country's government.
In 1265, he summoned a council – or parliament – where, for the first time in English history, elected representatives from towns sat alongside knights and churchmen, to discuss affairs of state.
This is where parliament was won.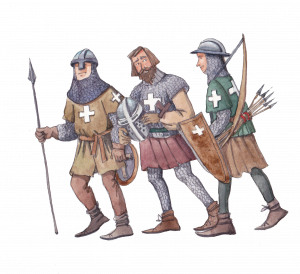 Now you can step back in time and learn more about this pivotal battle. An exciting audio visual walking trail has been created on Landport Bottom, the very site where the battle took place.
Six short films have been produced by The Company, each telling the story of the Battle of Lewes from different perspectives.
Local actor Mark Williams (best known for playing Mr Weasley in the Harry Potter franchise) presents and narrates the films, taking you into the heart of the fighting and the politics that went with it.
The films are accessed via QR code and NFC tags on small plaques and information lecterns around the site. Either scan the QR or simply tab your NFC-enabled phone (most smart phones have this) on the plaque to play the film.
This project was a partnership between the South Downs National Park Authority, Lewes Town Council and the Chalk Cliff Trust.
How to reach the walking trail

Landport Bottom is best reached by public transport. Get the train to Lewes town and there are a number of Compass buses that will drop you off near Highdown Road off Nevill Road, just a short walk away from the site.

Alternatively, if you're coming by car, there is small lay-by on Nevill Road where you can follow the public footpath onto the site. East Sussex County Hall Car Park is the nearest main car park.