Sussex Day Celebration Walk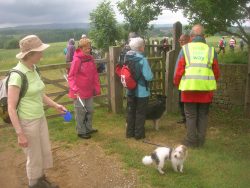 16 June 2018
0930 to 1:00
Booking
No booking for Walk; please advise if staying for lunch.
Event Cost
0:00
Details
What better way to celebrate Sussex Day thaqn a lovely Walk through Sussex countryside. The route leaves Tillington & goes via the Lodsworth Larder (cake & loo stop), the lovely Lime Tree Avenue , the Queen Elizabeth Oak (" old when Queen Elizabeth 1 saw it "), Cowdray Golf Club , & lunch at the great White Horse pub at Easebourne. This year we must book ahead for the Lunch. Most walkers stay for Lunch & then catch the 1.30 bus back to Tillington. Gerald is a qualified HeartSmart walk leader. Dogs welcomed.
Location Details
Location
Horse Guards Inn Upperton Road Tillington 1 mile from Petworth
Postcode
GU28 9AF
Directions
Park in road & may be Village Hall car park.
Organiser Details
Organiser's Name
Gerald Gresham Cooke
Organiser's Email
Organiser's Telephone