Iron Hill Health Walk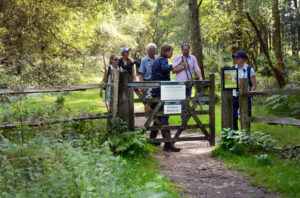 20 May 2019
10:30 to 12:00
Booking
Just turn up.
Event Cost
Free.
Details
A health walk taking you through Iron Hill, a Forestry Commission site and along some of the Sussex Border Path and Serpent Trail. Delivered as part of the Heathlands Reunited Project. An easy-going walk with some inclines and uneven ground. The route is 2.5 miles long and at a gentle pace.
Location Details
Location
Iron Hill. The meeting point is at Liphook Train Station, Station Road, Liphook.
Postcode
GU30 7DN
Directions
Train: The London-Waterloo to Portsmouth line calls at Liphook station. Bus: There are bus stop at the station, Midhurst and Portsmouth Road. Check Stagecoach for times. By Car: From B2070 Portsmouth Road, turn onto Station Road. There is a car park at the station. Please note that you need to pay for parking.
Organiser Details
Organiser's Name
SDNPA/Heathlands Reunited
Organiser's Website
https://www.southdowns.gov.uk/care-for/heathland/heathlands-reunited/
Organiser's Email