'Inspired by wildlife' craft workshop – print your own tote bag & wrapping paper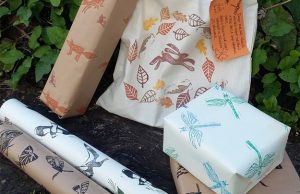 25 November 2017
10:00 to 12:00
Booking
Booking essential
Event Cost
£20 per person / £16 for RSPB members. This event is designed for adults.
Details
We'll help you to design and carve your own wildlife-inspired stamp and then print a cotton tote bag, wrapping paper and gift tags. We'll also have some hand-made wildlife stamps that we've created that you can use whilst printing your own design. We will provide 1 tote bag, 2 sheets of wrapping paper and 4 gift tags for you to print on. You will also be able to take your own handmade stamp home with you for future use. Hot drinks and sweet nibbles will be provided. You may wish to bring along some photographs or pictures as inspiration.
This event is designed for adults.
Location Details
Location
Pulborough Brooks, Pulborough, West Sussex
Postcode
RH20 2EL
Organiser Details
Organiser's Name
RSPB Pulborough Brooks
Organiser's Website
https://www.rspb.org.uk/discoverandenjoynature/seenature/events/details.aspx?id=tcm:9-333417
Organiser's Email
Organiser's Telephone