Heyshott Common Nightjar Evening Walk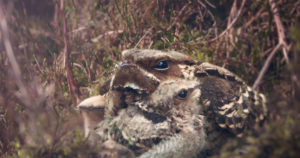 14 June 2019
20:30 to 22:00
Booking
Just turn up.
Event Cost
Free.
Details
A gentle stroll across Heyshott Common, listening for and watching nightjars as they mark their territories and attract a mate. This is a flat walk on mainly sandy paths but there are occasional boggy sections. There are a few trip hazards so bring supportive footwear. Don't forget your binoculars! If it is raining the walk will be cancelled. Delivered as part of the Heathlands Reunited Project. 
Location Details
Location
Heyshott Common, New Road, Midhurst.
Postcode
GU29 0BY
Directions
Bus Stop: 96 Compass bus stops at Hoyle Lane Grid Reference: SU 912194 Download a site map of Heyshott Common by searching on our Heathlands Reunited interactive map.
Organiser Details
Organiser's Name
Kate Dziubinska
Organiser's Website
https://www.southdowns.gov.uk/care-for/heathland/heathlands-reunited/
Organiser's Email