Hairy not scary! Meet the cattle (Woolbeding)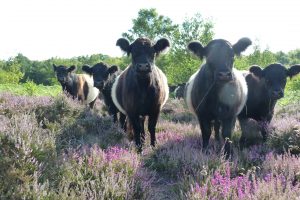 15 June 2019
Booking
https://www.eventbrite.co.uk/e/hairy-not-scary-meet-the-cattle-woolbeding-tickets-52811127504
Event Cost
FREE
Details
LIMITED SPACES BOOKING ONLY

Join the National Trust who would like to introduce you to their cattle. They are welcoming everyone, including dogs to find out just what role these magnificent creatures play in helping the heaths.
Natalie Light our dog behaviourist will be on hand to help with doggie introductions and show you how best to moooooooneuvre through a field of cows. The walk can easily replace your normal dog walk for that day. Join us at 09.30am or 11.00am.
More than a million dogs, and their owners, live in the South East of England and with more than 3,300km of rights of way the South Downs National Park welcomes many thousands for their walkies every day.
Since the vast majority of these dogs behave well, the National Park is launching a celebration of great dog owners with our Take The Lead Campaign. Dogs should always be kept on a lead around livestock, so to help we are inviting you to meet the cattle.
Whilst we are keen to include as many dogs and walkers as possible, this event is not suitable for dogs with serious behaviour issues and dogs should be comfortable in the company of people and other dogs. If you are unsure as to whether it may be suitable for your dog please contact nat@natdogs.com.
Reserve your place on eventbrite, email heathlands@southdowns.gov.uk or call 01730 819320 for more details and to book a place.
Please note:
All dogs attending the event must be on a lead

All dogs attending the event must not be wearing equipment such as shock collars, spray collars or prong collars and the use of aversive techniques or equipment will not be tolerated.

The methods advised by Natalie Light dog training & behaviour are not based on fear, pain or intimidation but instead use distance, safe management (lead or long line) and rewards to keep dogs calm and encourage desired behaviours.

Dogs will not be encouraged to approach or interact with the cattle at this event and instead, owners will be given advice about keeping their dog calm and at a safe distance whilst training them to ignore the cattle.
Location Details
Location
Head up to Older Hill and Redford but don't go so far!  Look for event signs and turn left into our yard at Pound Common where they can park.   If they see Pound Farm they have gone too far. 
Postcode
GU29 0QB
Directions
For further directions.
Organiser Details
Organiser's Name
Katy Sherman
Organiser's Website
http://www.southdowns.gov.uk/heathlands-reunited
Organiser's Email
Organiser's Telephone