Stargazing South Downs
Saturday 18 February
Part of the South Downs Dark Skies Festival 10 – 26 February
A day of family activities to celebrate the new South Downs International Dark Sky Reserve designation and help you discover the dark side of your National Park.
DAYTIME
At 11.30am and 1.30pm the South Downs Planetarium in Chichester will be laying on special shows 'Wintertime Stars Moons and Planets', designed to ignite an interest in the wonderful dark skies of the South Downs. Keep an eye on their website for all the details – advanced booking essential.
EVENING
That evening the action will move to the Midhurst Rother College, in Midhurst from 6.00 until 10.00 pm. Free Entry to this evening event
Here there will be a wealth of activities for budding stargazers of all ages, both indoors and outdoors, and a chance to learn more about what it means to be an International Dark Sky Reserve from the National Park's Dark Skies Ranger, 'Dark Skies Dan'
Outdoors we will have: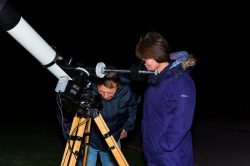 A range of experienced astronomers and their telescopes who can help you explore the complexity of dark skies.
An opportunity to bring your own telescope along and be shown how to set it up correctly (if the night is cloudy this activity will take place in the school gymnasium)
Indoors we will have:
A Programme of Talks in the Lecture Theatre
6.30 – 7.00 Dark Skies Dan on the International Dark Sky Reserve and how Harry Potter can help you remember constellations.
7.15 – 7.45 Dr John Mason, of the South Downs Planetarium on the wintertime night sky and what you can see with the naked eye, binoculars and small telescopes.
8.15 – 8.45 Jane Willmott of Sussex Wildlife Trust will be talking about Nocturnal wildlife – how to spot it and look after it.
Indoor planetarium shows throughout the evening
Science activities with Portsmouth University.
Free 'Stargazing South Downs' booklets on how to explore and protect our dark skies
Hands on activities for children including:

Giant Dark Night Skies floor jigsaws
Dark skies themed badge-making and sash- making
Astronomy themed feely box activity
Dark skies craft activities

Soup and hotdogs will be for sale
Astrophotography (indoors)
Learn how to photograph the wonders of the night sky, with Graham Bryant of Hampshire Astronomical Group
6.30 – 7.30, repeated from 8.00 – 9.00 – limited to 15 places per session and booking through Eventbrite is essential, show your booking form at the door with a suggested donation of £3.00 per person