News and updates from the Brighton ChaMP project
Brighton & Hove ChaMP for Water event – Geological Society of London, Solent Regional Group event
Portsmouth, January 2019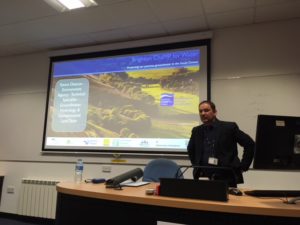 The latest Solent regional Geological Society of London (GeolSoc) Seminar was held at Portsmouth University in January. Around 40 people came along from as far as Oxford and Guildford to hear about ChaMP for Water, and the impact and achievements of this collaborative partnership in reducing nitrate groundwater pollution.
Simon Deacon (Environment Agency Technical Specialist in Groundwater, Hydrology and Contaminated Land) explained that Brighton ChaMP for Water was designed in response to rising nitrate trends observed at Southern Water abstraction boreholes in the Brighton Chalk Block. The principal aim of the project is to protect and improve the quality of groundwater in the Brighton Chalk, and to ensure it remains a sustainable resource for public water supply. To achieve this, actions identified and agreed collaboratively in the Environment Agency's Safeguard Zone (SGZ) action plans, the South East River Basin Management Plan, Southern Water's Water Resources Management Plan (Draft) and National Environment Programme, and the Adur and Ouse Catchment Plan (groundwater chapter) will be prioritised and delivered. This puts into practice the concept of integrated catchment management.
Read the full article – Brighton and Hove ChaMP for Water event – Geological Society of London, Solent Regional Group event
Reducing Nitrate Pollution
The House of Commons Environmental Audit Committee (EAC) recently published its report 'UK Progress on Reducing Nitrate Pollution'. (November 2018)
Historic use of artificial fertiliser has led to nitrate pollution in Brighton's chalk aquifer, and we're pleased that the Government is taking the issue seriously, and is looking in detail at solutions. It's increasingly important to be able to support change in practice, including supporting farmers to invest in infrastructure and processes to reduce artificial fertiliser application, and to promote better storage and use of animal waste in order to reduce nitrate leaching into the soil and groundwater. The ChaMP team is committed to being at the forefront, and we've been working with farmers and landowners on the Brighton Chalk Block over the past three years on practical ways to reduce Nitrate Pollution.
The report makes a number of recommendations around:
Water quality, promoting a longer term approach to catchment planning and funding; investing in supporting farmers and stakeholders who go beyond regulation and best practice (while not breaking the 'polluter pays' principle)
Alignment of EU Directives to ensure a cohesive approach to dealing with individual pollutants. Better alignment of UK air, water and soil policies
Logistical problems in the movement of livestock waste from livestock to arable farms, and consideration of incentives such as nitrogen pricing to incentivise the reduction of artificial fertiliser application
Effective monitoring, enforcement and resourcing to ensure a robust evidence base for policies and future investment decisions, as well as an effective watchdog with sufficient powers to enforce compliance with statutory targets and address non-compliance
Setting robust long-term targets and milestones in the Government's emerging 25 Year Environment Plan
If you're in the ChaMP area we want to work with you. Please get in touch if you're interested in getting involved.
November 2018 Soil and Nutrient Workshop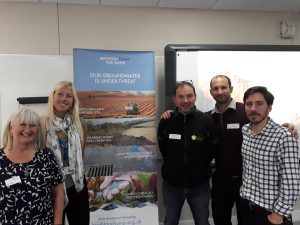 Thirty five farmers, land managers and environmental specialists came together on Thursday 15 November at Plumpton College to learn about the links between good soil health and crop yields at the Brighton ChaMP for Water soil and nutrient workshop from Joel Williams of Integrated Soils. The day was designed to stimulate thinking about innovative ways to improve groundwater quality through more sustainable land management. Here's an overview of the day.
Joel's presentations covered the Fundamentals of Soil Health and Integrated Nitrogen Management. He summarises his 'Top Tips for Soil Health' here, with his full presentations here.

Shai Gilad, Natural England's Catchment Sensitive Farming Officer and ChaMP partner gave an overview of the ChaMP Project and Rural Incentives, while Robin Kelly of Southern Water provided details about Southern Water's Current Grant Schemes.
Cover Crop Study
ChaMP for Water (Brighton Chalk Management Partnership) has been trialling the use of cover crops over winter 2017-2018 in the Brighton area. Instead of leaving fields bare, crops are planted which take up excess nitrates remaining in the soil after the previous crop, reducing losses to the aquifer. Read the Cover Crop Study for more information.
Raingardens
Our partners at the Brighton and Lewes Downs Biosphere (The Living Coast) have constructed two small raingardens in Portslade – have a look at their video here.
We're going on a slug hunt!
Read about how counting slugs helps a project to improve groundwater quality in the Brighton & Hove area.
Other Updates
Championing our water – An introduction to the ChaMP project
A word about water – An introduction to our plans to trial cover crops to protect groundwater